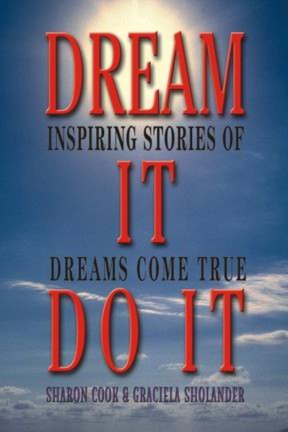 An Amazon.com Top Seller
Ranked #165 at Amazon.com on Jan. 8, 2004
Dream It Do It:
Inspiring Stories
of Dreams Come True
by Sharon Cook and Graciela Sholander
Paperback is sold out. ebook for Kindle available by clicking here.
Reclaim your life and your dreams with practical and inspiring guidance for anyone who has ever had a dream. The problem is that few people know how to bring back their dreams and even fewer know what it takes to achieve them — probably because nobody ever studied what makes dream achievers tick … until now! Click to continue below.
<![if !vml]><![endif]>

<![if !vml]><![endif]>

Read all about it! With the rousing success of the first empowering Dream It Do It Club® at Palm Beach Community College, new Dream It Do It Clubs® are opening throughout Florida. Learn how dream achiever Beverley Berlin Mas established the first Dream It Do It Club®, which in its first two years amassed over 1,400 members aged 25 to 83. Click here for the newspaper article about it and how to start a local chapter.

Dream It Do It Features Marigold Linton: 50th Anniversary of Racial Barrier Falling
in Higher Education — and It's Not Brown vs. Bd. of Education

Life coaching available from co–author Sharon Cook at Life Coaching Dreams

Featured Book of the Month:
Dream It Do It named featured book of
the month at SpiritCrossing.com
(January 2004, Volume IV, Issue V)

Recommended Book of the Week
Of Spirit Magazine
(Jan. 24–Jan 31, 2004)

Hear a 5–minute message from co–author Graciela Sholander at EmpoweringMessages.com

Meet the Authors
Author workshops, book signings, "On the Internet," articles about Dream It Do It

See who is featured in
Dream It Do It
by viewing the
Table of Contents

Co–author Graciela Sholander appeared live on
Coping With Caregiving
web radio.
Click here to connect.
Graciela was on the June 5, 2004 program, segment 5.
Windows Media Player required.

Testimonials from the Experts

Listen to the fascinating interview with co–author Graciela Sholander that was broadcast
on "StarStyle® Be the Star You Are!"
on World Talk Radio

Excerpts from Dream It Do It published
in the March 2004 issue of the
Women's Independent Press

For Career Counselors
(in Acrobat 4.0)
Dream It Do It: Inspiring Stories of Dreams Come True offers a clear path to reviving your long–lost dreams — be they career ambitions or altruistic goals. It took four years of research for the authors to identify the 10 essential qualities found in successful dream achievers — confidence, courage, commitment, creativity, purpose, passion, persistence, resilience, risk, and responsibility. Using real–life examples, Cook and Sholander show how to embody these characteristics in yourself and make them your own.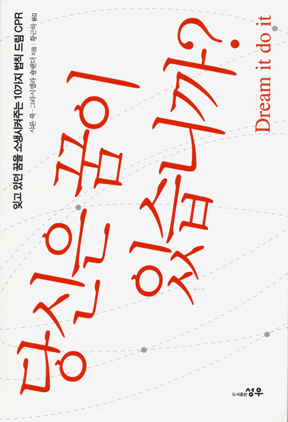 Dream It Do It
Published in Korean
The Sungwoo Publishing Company has published a Korean–language edition of Dream It Do It.
The authors present inspiring, real–life accounts of dream achievers to demonstrate how they made their dreams come true. They've included both the famous (including Lance Armstrong, Barbara Walters, Maya Angelou, Jimmy and Rosalynn Carter, Gloria Estefan, Bill Nye the Science Guy, Harrison Ford, Tiger Woods) and the unknown (including "VeggieTales" creator Phil Vischer, astronaut Eileen Collins, teacher Barbara Vogel whose fifth grade pupils have freed thousands of slave in The Sudan, one–legged championship skier Cale Kenney, the wife–husband team of Susan Titcomb and David MacKay who created the personal chef industry out of nothing).
The authors they interviewed and researched hundreds of people before settling on the 37 dream achievers profiled in Dream It Do It. Their experiences will make readers' spirits soar and inspire even the most discouraged readers to practice "Dream CPR" and achieve their most heartfelt dreams.
Dream It Do It goes far beyond merely recounting how, for example, elementary school teacher Barbara Vogel's classes actually freed thousands of slaves in Sudan and how Barbara Walters shattered the glass ceiling in broadcast journalism.
It shows how these 37 seemingly ordinary people, each with an extraordinary dream, accomplished their goals despite personal issues, cultural barriers, discouragement, years of frustration, discrimination, and other major obstacles that derail most people's heartfelt dreams.
Offering positive, uplifting, and timely advice plus insightful in–depth analysis from authors Sharon Cook and Graciela Sholander, everyone who reads Dream It Do It can learn how they, too, can attain their seemingly unreachable goals.
Dream It Do It doesn't just recount these success stories. It identifies exactly what each profiled individual did to achieve her dreams and proffers guidance for applying the lessons they learned to the reader's own ambitions. It pinpoints the key personal attributes common to the role models it profiles and shows readers how to recognize these attributes in themselves. Readers will use the elements of "Dream CPR" and the advice of the profiled individuals to identify and understand their dreams and focus on how to achieve them.
SelfGrowth.com is the most complete guide to information about Self –Improvement, Personal Growth and Self Help on the Internet. It is designed to be an organized directory, with articles and references to thousands of other Web Sites on the World Wide Web.
| | | |
| --- | --- | --- |
| This Job Quest Online Catalog is a secure site that respects your privacy and makes it easy to contact us. | | eBook available now |