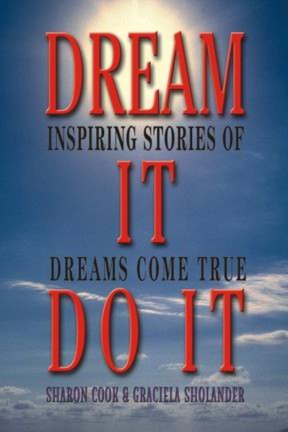 Return to the Dream It Do It Home Page
<![if !vml]>
<![endif]>
Dream It Do It:
Inspiring Stories
of Dreams Come True
by Sharon Cook and Graciela Sholander
Trade paperback: $16.95, 238 pages, ISBN: 1–884587–30–5
"Dream It Do It offers the reader a clear recipe for success through "Dream CPR." But what truly makes this book a veritable goldmine is the incredible collection of true–success stories."
— Brent Eskew, Founder and President, FindYourSpot.com
"These portrayals of great people testify to America's resilience. Sharon Cook and Graciela Sholander have performed a public service of the highest order by showing us exactly how others have successfully summoned up the courage to unearth and pursue their long–dreams. There's a motivational story here for everyone.
"As a recovering alcoholic, I once lost all sight of my dream of a career in public service. I am not sure how I found my way again. But after reading Dream It Do It, my mind has been refreshed. The map to success is drawn so eloquently by Cook and Sholander. Inspiration and perspiration are personified in their profiles of people who have made the journey."
— Jim Ramstad, U.S. Congressman, 3rd district, Minnesota
"One part inspiration, one part example, and one part practical advice, Dream It Do It provides questions to trigger your mind and heart into revealing your own dreams. The authors' "Dream CPR" is a reminder of the essential attributes every dreamer must master for a dream to become reality.
"Graciela and Sharon have captured the moments of inspiration that spurred lifetimes of dedicated effort and profoundly satisfying outcomes.
"This book will inspire and equip you, as well as the young people you care about, not only to dream big, but to dream effectively."
— Gail Manza, Executive Director, The National Mentoring Partnership
"There is no single magic formula for fulfilling our dreams, but exploring the real lessons outlined in Dream It Do It will enhance the chances that everyone can achieve their deepest Aspirations."
— LeAnn Thieman, Co–author, Chicken Soup for the Nurse's Soul
"This book is a must for anyone who thinks they cannot achieve their dreams. Dream It Do It offers the ABCs of a journey to success."
— Lois Lane, Certified Substance Abuse Counselor