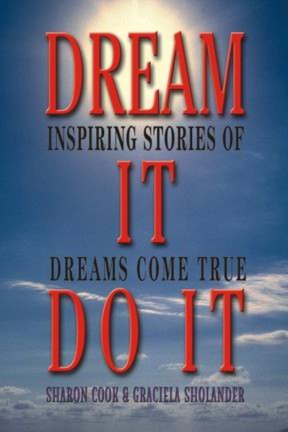 <![if !vml]>
<![endif]>
Dream It Do It:
Inspiring Stories
of Dreams Come True
by Sharon Cook and Graciela Sholander
Available today here and at bookstores!
(If not in stock, any bookstore will gladly special order it for you today.)
Trade paperback: $16.95, 238 pages, ISBN: 1–884587–30–5
Return to the Dream It Do It Home Page
Midwest Book Review's Small Press Bookwatch (Feb., 2004):
The expert and collaborative effort of Sharon Cook and Graciela Sholander, Dream It Do It: Inspiring Stories of Dreams Come True is a thoroughly "user friendly" self-help guidebook to rebuilding confidence, unleashing creativity, awakening our passions, and learning to take risks while keeping responsibilities in mind — all the better to pursue our personal dreams and goals in life. A motivational instructional to help one take control and steer one's life toward the future one desires, Dream It Do It combines testimonials with solid advice for making things happen, instead of just letting things happen.
4. Book/Product Review
"Dream It Do It: Inspiring Stories Of Dreams Come True" by: Sharon Cook & Graciela Sholander, Publisher: Planning/Communications, ISBN:1-884587-30-5, $16.95
I'm going to begin this review with a sentence from the forward of this book: "What these authors deliver on the exercise of dreaming is one part inspiration, one part example, and one part practical advice." In this book you are going to find the stories of people you know: Yo-Yo Ma, Harrison Ford, Gloria Estefan and others, and their stories are going to help you achieve your goals in life …whether they be business goals, personal goals or both.
I'm not going to tell you the "stories." They are too powerful, too personal, too true. When you read them you will say, "Yes, I also can do what it takes to make my dreams come true," and then you will do it. That's power, and you can share in it by reading what others have done.
The information in this book is modeled after Medical CPR (CardioPulonary Resuscitation). Just as Medical CPR saves lives, this book sets forth a method of resuscitating your dreams with "Ten Essential Elements of Dream CPR." If you find yourself at odds with what you thought your life would be, take heart, you can resuscitate that dream in one way or another and accomplish what others tell you is "impossible."
There is a reading guide in Chapter 2. Read it in detail, take notes in the margin, underline and highlight the sections that touch your needs. Understand, this is NOT a touchy-feely book. It is a book about those who decided to achieve their dreams along with fairly detailed information on how they did it. It is designed to spark you to do the same. The last chapter starts with a quote from Walt Disney: "If you can dream it, you can do it." These are the words you need to put on your bathroom mirror, on your dashboard, in your planner, and anyplace else that inspires you.
If you are like me, you will pick-up the book, look at the cover, read the back, thumb through the material, and make a decision. Before you finalize your decision, turn to the Appendix A and read the voices of the future as they tell of their goals and dreams. It's moving. Should you wish to learn more about these two women authors, go to http://www.dreamitdoit.net. This book rates 5 stars. (Only the Bible and the Constitution get six.)
<![if !vml]>
<![endif]> http://seasonedwithlove.com
"We've found that dream achievers master at least one of the essential elements we've identified. Most dream achievers master several." ~Sharon Cook and Graciela Sholander
Sharon Cook and Graciela Sholander have created a recipe for success. By mixing the 10 main ingredients of success into your life, you will see your dreams jump off the pages of your journal and come to life. Not only are you encouraged to start a journal, the authors offer questions that will inspire answers that will then lead you to your dreams.
Cook and Sholander have been studying the lives of successful dreamers for years and through their research they identified ten key characteristics for success. They interviewed hundreds of people to find the elements of "Dream CPR."
Not only is this book very well organized, the main points are examined and present a powerful roadmap for success. With a journal, the inspiration in this book and your own dreams, you will be equipped with the knowledge to fulfill your dreams. If you have forgotten the dreams that once inspired you, this book may awaken the sleeping dreams and buried longings.
While reading Dream It Do It all I could think was: "If these individuals could see their dreams come true, I can also make my dreams a reality." I enjoyed reading the true-life example of Barbara Walters' persistence and was amazed by the resilience Maya Angelou has shown in her life.
What sustained the dreamers in this book?
Who were their mentors?
How can you put effective strategies into practice?
These questions are all answered in Dream It Do It. It is not enough to say that you should just do something. Where do you start? The authors present some of the main principles of success by giving examples of effective strategies. They show where the dreamers found their inspiration and at times, this information will surprise you. I was amazed at how Maya Angelou created beauty out of pain.
While many may say that success is a result of luck, this book proves otherwise. There are definite steps you need to take to see your dreams become a reality. Success does take effort. However, if you love what you do, you just flow with life and create your desired existence.
A dream does not need to be just a cloud that floats around in the world of desire. You can release your ideas into a journal and then turn them into raging rivers that will move all obstacles in your path.
Dream It Do It presents the recipe for success and all you need to do is blend these ingredients into your daily life to create the life of you dreams. "Dream CPR" will breathe new life into your buried dreams or will give you the encouragement to continue your current path towards your goals. — Rebecca Johnson, "The Rebecca Review"
Recommended Book of the Week, Jan 24-31, 2004
Here's help for everyone who has dutifully listed their New Year's resolutions each January 1 and tried to reach back to revive their dreams. Problem is, few people know how to bring back their dreams and even fewer know what it takes to achieve their dreams once they've remembered them.
Dream It Do It: Inspiring Stories of Dreams Come True offers a clear path to reviving your long-lost dreams -- be they career ambitions or altruistic goals -- by embodying the 10 qualities typical of successful dream achievers: confidence, courage, commitment, creativity, purpose, passion, persistence, resilience, risk, and responsibility.
The authors present inspiring, real-life stories of successful dreamers to show how dream achievers embody each of these ten characteristics to make their dreams come true. They report on both the famous (including Lance Armstrong, Barbara Walters, Maya Angelou, Jimmy and Rosalynn Carter, Gloria Estafan, Bill Nye the Science Guy, Harrison Ford, Tiger Woods) and the unknown (including "VeggieTales" creator Phil Vischer, astronaut Eileen Collins, Barbara Vogel whose fifth grade pupils have freed thousands of slave in The Sudan, one-legged championship skier Cale Kinney, Susan Titcomb and David MacKay who created the personal chef industry out of nothing) to show that you, too, can revive your dreams and actually achieve them.
Not only will you learn how embodying each of these 10 elements of "Dream CPR" can help you resuscitate your dreams, these real–life stories will inspire you to incorporate these 10 characteristics into your every effort to actually achieve your dreams. The authors left no stone unturned as they interviewed and researched hundreds of people before settling on the 37 dream achievers profiled in Dream It Do It. Their experiences will make your spirits soar and inspire even the most discouraged readers to put their lives back together and achieve their most heartfelt dreams.
spiritcrossing.com
Dream It Do It: Inspiring Stories of Dreams Come True
by Graciela Sholander and Sharon Cook
You've made a resolution to take your life in a new direction this year.
But where do you start?
Fort Collins, CO writer Graciela Sholander and co-author Sharon Cook offer inspiration and practical tips in their new book, Dream It Do It: Inspiring Stories of Dreams Come True.
Simply put, Dream It Do It offers readers a clear, realistic path toward reviving and achieving their most heartfelt dreams. It identifies the key characteristics dream achievers embody and uses inspiring stories of dreams come true to show how 37 famous and not so famous dream achievers actually fulfilled their aspirations.
Reviewer: Don Mitchell - a management consultant in Boston
Live your dreams! That advice leads off many helpful books. Most such books deal with the taking an existing dream . . . and turning it into reality. The better books contain some brief vignettes that exemplify the main points. Sometimes the author has led a very memorable life that serves as the main example. When I picked up this book, I wondered how Dream It Do It would differ from those offerings.
I was pleasantly surprised to find that Ms. Cook and Ms. Sholander take one step back and begin by helping you find worthy dreams … both ones you've had before … and brand new ones. Next, they offer ten characteristics required to turn dreams into reality -- something they call "Dream CPR." C stands for confidence, courage, commitment and creativity. P stands for purpose, passion and persistence. R stands for resilience, risk and responsibility. The phrase, "Dream CPR," is obviously designed to help you remember the ten characteristics when you do not have the book in front of you. Each characteristic is then addressed in a separate chapter that begins with an explanation of what the characteristic is, then provides 3 or 4 examples of someone who really emphasized that dimension in living their dreams, and finishes with a practical set of instructions for what the reader should do next. In addition, you are encouraged to keep a journal as you read and dream so that you will capture key thoughts. In chapter 13, the authors then give you a summary of the nine characteristics and the qualities you need to emphasize to achieve them (for instance, relying on intuition helps you identify and keep focused on your purpose). I especially liked appendix A that includes dreams from children.
The observations and stories are drawn from hundreds of interviews that the authors did with people who have lived their dreams… so this is a research-based book rather than just their gut feelings about the subject.
If someone is going to develop the desire to live their dreams, I think they need to see that they can do it… as long as they take the right steps and are persistent. The stories (which are the bulk of the book's pages) are admirably designed to do that. No matter how hard a reader might think she or he has it, someone in this book has had it worse… and went on to live a profoundly positive life that made a large difference for others. If you can speak English, have all of your physical capacities, and are able to work, you will find yourself well ahead of many of the people in these stories. Even if you don't have those capabilities, you can overcome whatever you think is holding you back.
The examples are very well chosen. Almost everyone will find a story that will inspire them. In addition, the stories often exemplify more than one of the characteristics… so you get multiple reinforcement of what is required.
I was especially pleased to see that purpose and persistent are emphasized. I find that most people who make their dreams a reality are terrific at those two elements. Yet most books I read don't emphasize those points nearly enough.
I happily endorse this book and recommend it as a worthwhile read… and an even more worthwhile guide to living a better life.
As I finished the book, I mentally went through my list of dreams that are not yet fulfilled… and recommitted myself to being persistent in following my purpose.
Follow your most worthwhile dreams!
Reviewer: Sarah from New York, NY
Since moving to New York I've gotten kind of jaded about just about everything. But I've got to admit that this book's accounts of actual people who overcame steep odds to make their dreams come true really inspired me. I don't usually go for this inspirational stuff, but when I my boyfriend gave me Dream It Do It, I got drawn in by the authors' obvious sincerity and enthusiasm and just kept on reading. I've even started writing my Dream CPR Journal like the authors recommend and I'm about ready to start formulating a plan to fulfill my dream from long ago, a dream I didn't even remember until I got halfway through this book.
Anybody who reads the stories of Cale Kenney and Marigold Linton can't help but be inspired. If they can overcome the loss of a leg and debilitating discouragement from all around, respectively, to achieve their dreams, anybody -- even me -- can. I had no idea of what Barbara Walters had to go through to become a top TV reporter. I never knew that Harrison Ford turned to carpentry while his acting career stalled and seemed hopeless. Now I know what to get my sisters and brothers for Christmas - Dream It Do It!
Posted March 24, 2004 at http://www.review-books.com by reviewer Cheryl McCann
Opinion by the Reviewer:
Very well written and inspiring to go and accomplish your dream to never, ever give up! Here is a quote from the book, page 108: "Passion finds a way, sooner or later, to make itself known. Against the odds, the artist will paint, the writer will write, the scientist will discover, even though each may not always follow a prescribed path. Detours are not necessarily detrimental to our dreams; they can supply us with valuable life experiences that ultimately prepare us to live our dreams born of passion."
Inspiring stories of dreams come true... "Recognizing what your dreams really are and achieving them can be hard without support and guidance from those who have accomplished them," explains Sharon Cook, a resident of Flagstaff, Arizona, now in her 21st year of sobriety."
"Most dreamers float in limbo, unsure of how to proceed," adds Graciela Sholander who left a secure, lucrative career as an electrical engineer for her dream of becoming a professional writer.
You will find 37 real-life, successful dreamers profiled in Dream It Do It, some of which are famous and some are lesser-known, but all are very extraordinary. Just proves that we should all pursue our dreams and only you can know your true dream.
After studying hundreds of people to identify characteristics that made them fulfill their dreams through all obstacles, the "Dream CPR" elements were born. Each element is profiled in the book:
confidence
courage
commitment
creativity
purpose
passion
persistence
resilience
risk
responsibility
The book provides guidance and shows you how to get crucial support for your dreams. Included in Dream It Do It are Lance Armstrong, Jimmy & Rosalynn Carter, Maya Angelou, Barbara Walters, Harrison Ford (my favorite), Tiger Woods, Dennis Weaver, and Yo-Yo-Ma. You will also read about a Colorado schoolteacher, the first woman to command the space shuttle, and the husband-wife team who started a personal chef industry from scratch. For a complete list of the dream achievers featured in Dream It Do It, visit http://dreamitdoit.net.
About the Authors:
Sharon Cook has written Return to the Child of Light, which has empowered thousands of people to break free from addictions. She has appeared frequently on television and radio in addition to speaking extensively at conferences, workshops, clinics, treatment centers, and hospitals. She lives in Palm Springs, California, area.
Graciela Sholander has written more than 100 feature articles on topics such as self-esteem, Feng Shui, and family camping. Her work has appeared in Women's Circle and Family Magazine and New Mexico Magazine. Also, her writing has appeared on web sites, including KidsHealth.org and experienceonline.com. She resides in Colorado with her husband and two children.
Words of Wisdom 4 U!
Motivational Book Review
URL: www.wow4u.com. Review first posted April 2004.
Dream It Do It:
Inspiring stories of dreams come true
Authors: Sharon Cook & Graciela Sholander
Have you ever looked at a successful person and wonder how they became successful? In this wonderful, easy to read book not only do you find stories of peoples' successes, but you also find the challenges they faced, and how they overcame those challenges.
To quote the authors: "Life can knock us down flat. It's our measure of resilience that determines whether or not we'll keep dreaming and reaching for our dreams."
This book gives examples of people who have been knocked down, but they also share many stories of people who succeeded. More importantly, they also give the elements of the keys to their success.
The authors have developed a wonderful tool, which they refer to as "Dream CPR." Throughout the book, they discuss the "Ten Essential Elements of Dream CPR," and apply the elements to real life examples.
While reading the book, they got to the heart of the matter quickly, and I could see how the elements of Dream CPR applied.
If you need inspiration, look no further. This book will motivate you, and help you to achieve the success that you are dreaming about.
QUOTES from the book, DREAM IT DO IT:
"Despite what we've been taught, we don't have to be rich, famous or distinguished to make our dreams come true."
"If you have ever felt such tremendous enthusiasm and desire for something that you would gladly spend all your waking hours working on it, that you would happily do without pay, then you have found your passion."
"Following our dreams almost always requires us to take chances. There is no guarantee that we will succeed in our venture. But if we don't try, we will never know how far we can go."
"Most people who are recognized for their remarkable accomplishments started out stumbling and struggling just like anyone else."
"When our dreams are born of purpose, we can soar above the limitations to accomplish the seemingly impossible."
"If nobody was willing to try something new, nothing would ever be invented."
"A single action can completely alter your future, for better or worse."